Once again… YOU asked, WE delivered!
RISE Softball is excited to announce Player Profile Sheets!
Have you been to a camp, clinic, showcase, or tournament where college coaches are in attendance, and as the day concludes you're left wondering "Did coach even notice me?" Next, you're left hoping a coach will call, text or email you, but also left wondering, "Do they even have my contact information?" Do they know who I am?"
Let RISE Softball help you eliminate those questions by creating your own Player Profile Sheet! We know at times, rules prohibit coaches from having contact with players. Our goal is for every player or coach (HS or Travel) to have a way to hand out their RISE Profile to College Coaches at every event they attend. This profile sheet will have the following:
RISE Profile Picture
Contact Info
Player Info (ex: positions, teams, height, weight, etc…)
Verified Stats
Social Media handles
QR Code directing them to your RISE Profile to watch your skills video.
Here is an example: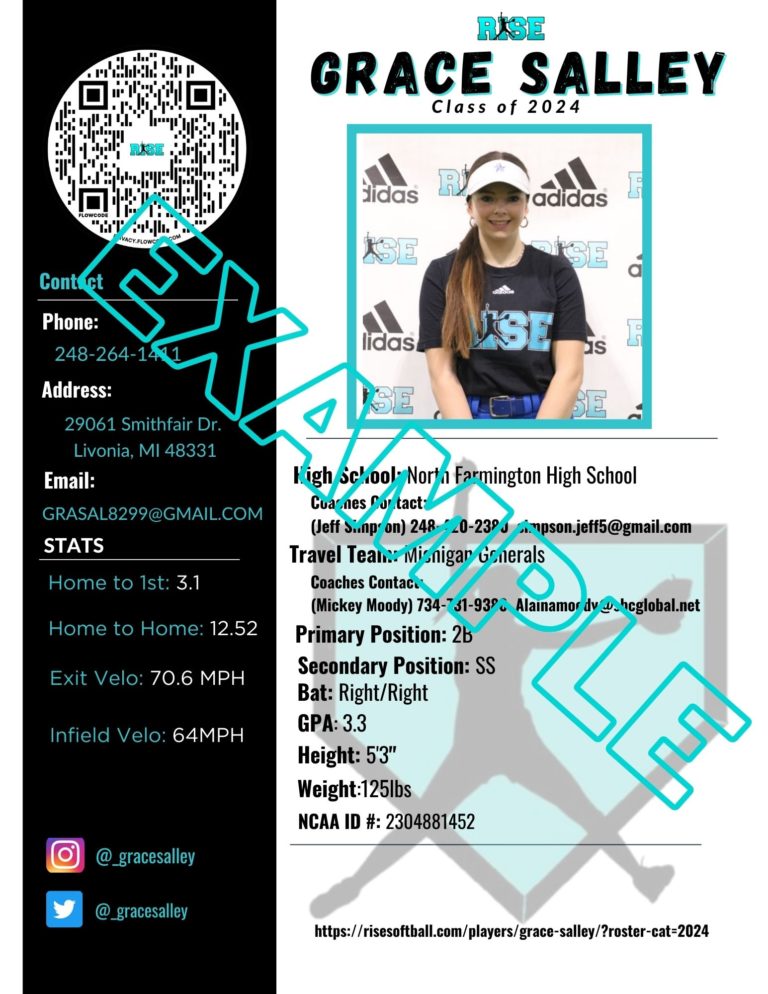 Here is how it works:
Once we receive your order for the Profile Sheet, please allow us 3-4 day (Business Days) for the profile sheet to be completed. If you ordered the profile sheet at the same time as you registered for a RISE Showcase or Scout Day, the profile sheet will be completed at the same time as your RISE Skills Video (approximately two weeks). We will then email you over the PDF Player Profile Sheet to the "Player & Parent" email address provided. YOU are expected to print the completed profile sheet. We strongly recommend printing them on "Brochure or Photo" paper for best results.
To get your Profile Sheet created, please click the link…